"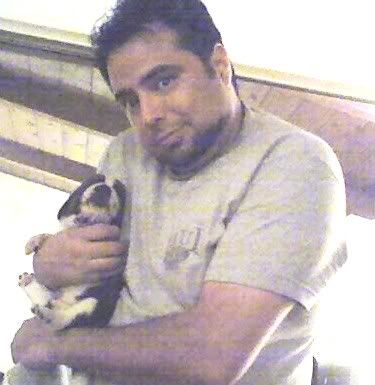 October 2007

Duke and Duchess our AKC Purebred Saint Bernards had six puppies.


We would like to spread the joy to other families by allowing them to be adopted.

If you are interested or know someone that might be interested in getting one (or

two

), let me know.
Jenny made the following newsletter announcements:

Litter News Vol 1.
After waiting and waiting, the puppies arrived Monday night/Tuesday morning (Oct. 15-16)!
The first one arrived at 8:45 PM and the last one arrived at 7 AM. The biggest of the litter weighed in at 1 pound 8 ounces and the smallest weighed less than 1 pound. We have 5 boys and 2 girls with Momma Duchess right now. Unfortunately, 2 of her puppies weren't meant to be with us for very long, so they are peacefully resting.
Manny, Tim (my dad), and I were there to help Duchess with her delivery. It was an evening of adventure, excitement, and beauty!
Check out the pictures at: http://s241.photobucket.com/albums/ff98/RoyalLitter/
I'll keep everyone posted on their development and let you know when there are more pictures to enjoy.
Litter News Vol 2.
We've survived Week 1 with the puppies! They are such a joy to watch, especially at 3 a.m. while they cry and grunt looking for milk. Puppy #2 is the vocal one out of the bunch. We're not sure if he's practicing for American Idol or a reincarnation of Gizmo (Gremlins Movie, remember?).
We had sad news late last week—we lost our tiniest puppy, Little Lady. We found her around 4 a.m. Thursday cuddled next to her momma. She's now with the other two that didn't make it and we have 5 boys and 1 girl that we're helping Momma take care of now.
I've added plenty more pictures onto the website, so check them out when you can You'll see that they are growing quickly and are becoming quite the little characters. They had a parade of visitors this past Saturday and enjoyed all of the attention. We even had a family come over interested in adopting the girl puppy!
I split the photos into sub-albums by day(s) so it should be easy to look through. http://s241.photobucket.com/albums/ff98/RoyalLitter/
As you all may know, there have been several fires attacking San Diego. One of the fires have come close to our home, but as of now we are safe and at home. We packed up the essentials early Monday morning and are ready to leave if we need to evacuate.

Litter News Vol 3.
It's been two weeks since the last issue of Litter News and boy have our puppies been growing!
The puppies started opening their eyes around day 13 and their ears began to open shortly after.

Then, before we knew it, they started walking.

Just this past weekend, they've started interacting with one another.

They bat each other with their paws and nibble at one another.

Last night, I discovered that they have started to sprout their baby teeth!
Momma is doing well and recovered nicely from her surgery and received a clean bill of health from the vet. She's still nursing the puppies and has continued to be very patient with them. It amazes me how great of a mother she is and how much she watches over them. I was clipping their nails tonight and one of the fellas did not enjoy it at all and let everyone know by screaming and crying. Momma gave me a look and barked at me a bit to let me know she didn't want me to hurt her puppy. (Note: no puppies were harmed physically, just scared by the experience.)
We had the privilege of giving a couple of puppies sink baths over the weekend, since they became a bit dirty from rolling around in their box (I'll leave it to your imagination as to what they became dirty with.)

This past weekend, we also moved the puppies and Momma out of the box they have been in since Day 1 into a larger area—it was getting too cramped for all of them. They enjoy their new space and Manny and I enjoy watching over them playing and rough housing with each other.
That concludes this edition of Litter News, as always feel free to check out the pictures at http://s241.photobucket.com/albums/ff98/RoyalLitter/ and best wishes to you.